Big life events are worthy of Champagne and parties for sure, but Champs isn't just for celebrations anymore. Champagne for the mundane events of life can be enjoyed any time of the day or place. A friendly girlfriend meet-up to hanging with the hubs on a Saturday night is always an opportune time to imbibe in this crisp deliciousness.
You don't need to be snooty or a snob to indulge in this bubbly goodness anywhere. Champagne can accompany a plain old simple event or meal and make it more sexy. Am I right?
Bumbled Beginnings
When Benedictine monk Dom Perignon was making wine and couldn't rid it of bubbles, he tasted his accidental creation and exclaimed, "Come quickly! I am drinking the stars!" Thus, according to legend, was champagne invented in 1693.
Champagne was basically a mistake, but nobody regrets that mistake now! Obviously, a bottle of Dom Perignon is too expensive to drink on the regular, but you can get a split of bubbly most of the time for the same price as wine.
Breakfast Bubbly
A mid-week brunch date with a good friend is cause enough to enjoy a little bubbly with breakfast. I try to schedule at least one brunch/lunch date with a darling friend every couple of weeks. You can catch up on all the gossip, family updates, and work drama with a little style to make you smile. While brunch is my favorite meal of the day, a crisp glass can be quite refreshing with dinner on a warm summer evening as well.
Roadside Rebel
Just for fun, we cracked opened a bottle of Veuve Clicquot and poured it in some Starbucks cups on the side of the road waiting in line for brunch. We were on vacation, so it was kind of special. And the looks of the peeps passing by were worth the price tag of the hoity hooch! I am definitely a "you get what you pay for" chick and this bubbly's smooth taste is worth it!
Mesmerizing Meditation
Watching the bubbles rise in a glass of Champagne is super soothing. When partaking in a Champs lunch, take a minute or two to appreciate the bubbling ascent to the top of the glass. It will cure what ails you and put your mind at ease.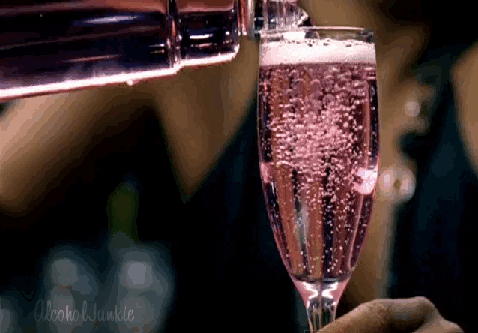 Fancy Flying
Whenever I am stuck in an airport on a layover, a fancy glass of fun will make the waiting worthwhile. Pass the time in style — just don't indulge too much and miss your flight!
Poolside Perfection
Champs by the pool enhances your tan for sure! We recently spent some time in Key West over New Year's. My go-to drink for the week was "anything with Champagne" in it. We just laid out by the pool in the sun, enjoying the simple pleasure with some pretty bubbly and pomegranate juice. The added benefit is that pomegranate is good for you, too!
Recipe Reciprocity
I did some fun exploring on google for Champagne recipes and artful ideas. The recipes are always fruity and beautifully amplify the Champagne taste and bubbles. What a perfect mixer to sparkle up your get together. Order up one of these fabulous concoctions when you are happy houring it up with co-workers.
Vendor Victory
When putting together a gift idea for your customers, Champagne adds that extra splash of class. With a little ingenuity, you can make your brand shine while spreading the bubbly cheers for any reason or season. It certainly makes for a lasting impression which is what you strive for while creating a new business relationship or solidifying the ones you already service.
Artsy Antics
Champagne art is a thing and what a beautiful thing it is. Spice up your home bar area or wine wall by hanging some fun artsy decor with a Champ's twist. I just adore this bottle art line up by Lindsey Kay at Society 6.
Goddess tip: While you are shopping at Society 6 for this bottle art, do me a fabulous favor and check out my shop for some Mid-Life Goddess goodies (here). Get 3.5% cash back with Rakuten, too!
Party it UP!
While "Champagne for the Mundane" is concept for which to aspire, Champs is still the go-to concoction for any celebration. My brother and sister-in-law had an ugly sweater Christmas party a few years back. Champagne in reindeer glasses a la "Christmas Vacation" theme is a cheerful way to celebrate the festive season.
Greeting guests with a drink at the door is standard practice for Hosting a Fabulous Christmas Dinner Party! Make it Champs!
Blissful Wedding Baubles
Weddings and Champagne go together like "peas and carrots". What a wonderful way to invite those special girlfriends to your bridal party with a DIY labeled Champagne bottle.
I wish I had been so creative 28 years ago when planning our nuptials……but with daughters heading to the alter some day….maybe soon?
Bubbles for Birthday
Whether it is your 32nd or 50th year of birth, pop that cork and toast the day! We "mimosa-ed up" to the bar at Blue Heaven on New Year's Day morning for my darling girlfriend Kristi's 50th birthday.
Champagne's Night to Sparkle
Champagne's biggest night is always going to be New Year's Eve. While in Key West this year, we toasted to the New Year as the "Conch Shell" was being lowered over Sloppy Joe's Bar on Duval Street. We raised our plastic cups of Champs at that exact midnight moment and sang Auld Lang Syne!
Bubbly Break Out
Whether you are partying like a rock star on New Year's Eve or having brunch alone with your pup, break out that bubbly goodness and enjoy!
I have to give a shout out to my dear sister-in-law Lesley, who has made "Champagne for the Mundane" an art form! Yep, she's the one with the pom pom in the air and bucket of bubbly in front of her for this football game get together. You Go Girl!
A good Mid-Life Goddess gets her bubbles on the regular, even in the mundane of an afternoon lunchtime. Cheers darlings! Always remember "midlife is only a crisis if you are" so bottoms up!
Please Note: We will sometimes earn an affiliate commission on the sales of products we link to at no additional cost to you. I will only feature items I genuinely love and want to share with my reading Goddesses!