How to meet friends in new places when you move away from the tribe you've had for years? All you need to do is get OUT there on the friendship hunt where other midlife ladies hang out!
I recently moved to Knoxville, Tennessee — which is exactly 631 miles from my home of 25 years — Muskegon, Michigan. So I set out to meet new friends when I settled into my relocated home. I still travel to hang with my gals back home which makes our Lady's Weekends that much more special. But a girl has got to have some local babes to hang with on the weekends!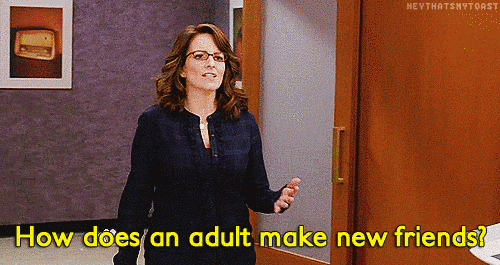 Adult "friending" is little tougher then when you were the "new girl" meeting kids at school. Most ladies already have their clique. These are some of the ideas that I have used to get out and meet some new peeps!
1. Alumni Associations
Seek out your alma mater's local alumni association. I am a Michigan State alumnus, so I got on the MSU Alumni site and looked up Knoxville and there it was — Smoky Mountain Spartans! As I was transitioning to my move down here 3 years ago (my husband actually made the move 7 years ago for a new job) the Smoky Mountain Spartans was my first event to get out and meet some new ladies. AND I DID!! My darling friend Lisa was at the first game day watch.
True story — While at our first game day watch party (against frienemy rival University of Michigan) I happen to see some kids we knew at the same restaurant. I popped over to say "Hi" and took a picture — posted it to Facebook — and went back to our alumni gathering.
A few minutes later, this "Lisa" asked the group "who is Melody?" I raised my hand, she came over and showed me a text she received from a mutual friend of ours back in Michigan. "Texting" Goddess Kris was Lisa's dorm mate back at MSU and coincidentally happened to also be a friend of mine from Fremont High School! Talk about a small world — you never know when or where you will connect — but you will.
2. Get Physical
No need to be a gym rat — but sign up for some classes. If yoga is your thing — you will meet some fellow yoga Goddesses. My daughter has a side hustle as a personal trainer — see her Goddess workout for us midlife ladies (here). She frequents a few different workout facilities with her client's training and has met several new Knoxville peeps — including her darling boyfriend of over a year.
3. Explore your Interests
The best new friends are those with whom you have something in common. So your "Interests" should be your starting point.
What do you like to do? Hiking — there are 50 different hiking clubs just in Knoxville — find your style and attend one of their events. Books — go to the library or local bookstore and ask about book clubs in the area.
Fitness — see "get physical" above. Gardening — the local university garden has events all the time. Cooking – attend a cooking class. (That's on my schedule for next week!) Sit down and write out what you like to do and start the google research for your new area.
OK – so this is where I warn you about "googling — meet new friends in your area" — you will get dating site OVERLOAD! Unless that is what you are looking for — beware there are a lot of icky sites out there.
4. Subscribe to your new Local Newspaper
That is how I find out what's going on! No need to get that "paper" that shows up just to be thrown in the recycle bin — get it online! Each morning the KnoxNews shows up in my email feed. Getting to know your new city is a must on the friendship hunt. There are always festivals and concerts and events to attend. It is the easiest way I have found to get out when all the good things are happening in my new town.
That is how I ended up at the BubbaFest! The newspaper post had a picture of Game of Thrones hottie Nikolaj Coster-Waldau (Jaime Lannister on the show). I bought a ticket — went to the event and hung out with a fun Mom/Daughter duo there to see Nikolaj too! I also ended up chatting with the event organizer and he is going to let me promote and interview some of the celebrity guests next year!!
5. Attend a Meet-Up
There's even an app for that! Meet-Up.com has tons of groups with all different kinds of interests. I joined a "Women over 50" group and met up this week to play Bunco at a local restaurant. Met some fabulous women — who like to socialize and I plan to attend more of their events.
Meet-Up is an easy way to find people and local events. Most of them are pretty casual — Bunco is about as casual as you can get. We all had a few adult beverages while playing too — now that's my kind of tribe! Other groups I have joined are "Uncorked Knoxville" and "Knoxville Social Meetup". Download the app and start meeting up with some new chicks!
6. Volunteer your Time
Volunteer for a cause you truly believe in championing. You are bound to run into some like-minded ladies to hang with while you are doing good. Of course, the objective to volunteering your time, is for the cause. So if you don't make a best friend forever — you have still accomplished helping out someone in need.
Join VolunteerMatch.org for local volunteering opportunities. There were over 80 volunteer needs just on my Knoxville page. Anything from Tennessee football volunteers needed (HA! for the UT Volunteer Football team) to Knoxville Museum of Art student art intake help. All types of ways to help out and maybe meet a new volunteer buddy along the way.
Next month I am attending the Knoxville 100 Women Who Care event with my good friend Tricia. Hoping to meet some new peeps while contributing to some local causes in need.
7. Work It
If you are moving for a new job — that means new co-workers! My fabulous co-workers from my last job in Michigan are some of my favorite people in the world. BE NICE (Goddess Rule #1 – here), dependable, good at your job and you will gain new friendships in that workplace.
If you are retired, take on a side job that gets you out in the public. See retirement questions to ponder (here). My current notary work allows me the opportunity to meet so many wonderful people. Most new to the area (mortgage closings are a notary staple) and often with new home owners to Knoxville. It's actually crazy how many Michigan natives I have met so we have lots in common to chat about. A side hustle get's you out in the area and adding some extra moola on the side is a bonus!
8. Network those Mad Skills
Networking events are a great friend-making opportunity! Use your skills from what you are doing now to find people in your same sphere of influence. Last year I attended a Women's Networking event in Knoxville when I was building my notary network. The event was very into promoting female owned businesses and I was able to follow up with a local credit union to solicit new notary business. Now that I have been working with them for a while — I have met several new ladies and created some new friendships.
9. Take a Leap on a Solo Trip!
A few years ago I signed up for a Book Convention in Atlanta. I headed down there by myself (only a 3 hour drive) and ended up meeting some wonderful ladies that are now dear friends for life!
We have attended several book events since — New Orleans BookCon, 1001 Nights Cruise to Cozumel, and we are meeting up in Chicago next year for the Kisscon. I truly believe we will be booking it all over the country for years to come!
My darling friend Diane goes on a solo trip to Italy for a few weeks each year.
She regularly meets Italian locals that end up being lasting friendships. She has a fabulous time, going to places SHE wants to go, and meeting fabulous people a long the way! Ciao!
10. A New Religion
Finding a new church is a must for those of faith in a new town. My daughter has been so happy with the new group of friends she has met thru the new church she has been attending while away at school.
Churches are always up for new members and a welcome commonality in your faith — no mater what domination you seek. Find new friendships thru fellowship!
11. Facebook Groups
Can't have this discussion without another Facebook mention. Facebook groups are a way to connect with people that have your same interests.
On a recent private Book group chat, I asked if anyone was from Knoxville. Three women instant messaged me and we are meeting up for a happy hour to chat about our favorite author and her books. You just have to put it out there — "Who is from (fill in the blank town)? – let's meet up!"
12. Go Team Go!
Support your new local football team or volleyball team or soccer team!
Attend that Friday night high school game. You will meet your new neighbors and extended family there to watch their kids or grandkids. My husband tries to get out to watch some of his co-worker's kids that play on our local teams. Hey, it's also a great excuse to get out on a date night with your babe, too!
13. People you Already Know
Accept that invite put out there to meet your new friend's social circle. I am not telling you to latch onto your friend's friends — but sometimes all you need is one connection into a group that can open up opportunities for a new tribe. My darling friend Lisa invited me to a lady's night after our Smoky Mountain Alumni meet up. Now I have Sandy and Margie to count as girlfriends.
Get out there girlfriends! When you are new to town put yourself out there where the women are with similar interests. Even if you aren't in a new city — work these ideas at home — new friends are always good for your Goddess soul! You never know if that "new girl over there" is looking for a new friend too.
Pass this Info along to a Friend!
Show me some fun friendliness by sharing this post with a fellow Mid-Life Goddess or comment below with other opportunities to meet some fabulous midlife gals!
Remember my Goddesses — Midlife is only a Crisis if You Are!